I can't believe I'm about to disclose my go-to baby shower gift list, but I've decided it's time. After having a baby myself, these are the items I felt spoiled by and would have not thought to purchase myself. They are also items that I now don't want to go without when we make future additions to our family (even if that means a future baby brother using big sister's pink gear!).
NURSING PONCHO
This nursing poncho is the best nursing cover out there. The material breathes; it covers not only the front BUT the back side; and many times people never realized my baby love was even nursing while we were in public (that is until she hit about 4 months and she gained more control of her arms and intentionally tried to pull the material). I've ordered this item from the Etsy.com store Busy Spinning Thread too many times to count and highly recommend them. Their price of $36-38 is worth it.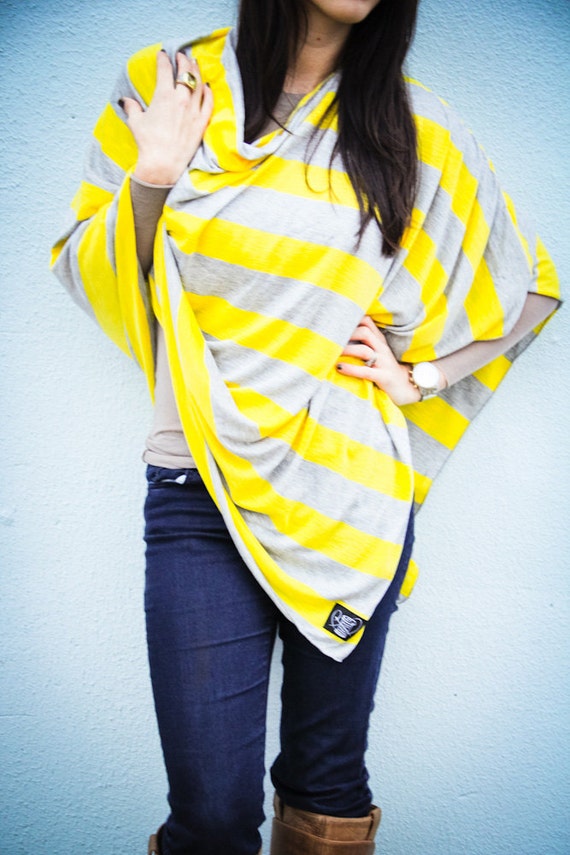 THE JANE NECKLACE
My mom purchased my baby the Jane Necklace chew beads when she was 3 months old. Baby didn't really understand what to do with it then, but now at 8 months, it's been a life saver. I snap it to the car seat, high chairs, ergo, around my neck, you name it. It has kept her focused on chewing the necklace instead of the table, my arm, or other random places. It's also very easy to clean. The necklaces are priced between $29.50 and $36.00.
SLEEP SACK
At some point babies grow out of being swaddled. Mine did at 8 weeks, but I know others that were swaddled until they started rolling. When that time comes, it's nice to know baby is warm and that the source of warmth will stay on their bodies all night long. If you are looking to spoil someone, purchase the Aden + Anais muslin sleep sack. The blanket breathes so beautifully. Prior to someone giving me the Aden + Anais muslin sleep sack, I'd find my baby sweating in whatever she was covered or swaddled in, but never once have I with muslin material! Price $45.
THIRTY-ONE UTILITY TOTE
I'm not a thirty-one consultant nor have I ever been to a Thirty-One party despite the many opportunities to attend one. Thanks to a church friend giving me this tote as a baby gift, I would not want to know life without it. Right now I use it as a hamper. It fits perfectly (and looks pretty) under the crib. I throw her dirty laundry in there and tote it to the laundry room when it's full. I also work full-time and have found the tote extremely helpful when I need to take baby with me to the office. I fill the tote with her floor quilt, bumbo, toys, and other goods and forgo the diaper bag. I'm also picturing it being used some day for all her books. The price is $35 and you can pay an extra $7 for a monogram! (If you need a consultant to purchase from, I recommend typing in Shannon Cole!)
MIROSLAV SASEK BOOKS
My brother and sister-in-laws purchased two of Miroslav Sasek books for us, "This is Texas" and "This is Washington, D.C." We love them and have now given this book to others. What's special about these books are the thoughts of collecting and reading to our child the locations where we have leaved as a family or where other members of our family currently live. We read it to our baby aloud now, but I recently gave this book to my cousin who is in first grade and he was thrilled about the history in the book. It makes this a gift that will easily grow with the child and or family!
And of course, I couldn't go without my Bohnke quilt, but I'm not sure her services are for purchase. If she reads this and wants to sell, I'll update my post. Her quilt has by far been my favorite. It is beautifully designed and stitched, packs up small but lays out large, and goes with us everywhere to give her a clean place to play on the floor.